As many of our clients already know OPC Inc and our national consulting team provide recommendations in office environments; including call centres; VISA processing centres; CSR and the typical seated office environments. One of the trends we are commencing based solely on our findings and best evidence is the need to get employees out of their seats & standing and moving through the day on a real basis.
We use technology, accessories, design where indicated to cause employees to have to stand, move their chair

in a dynamic mode

, and walk to perform more and more task; aiming for an increase in these postures to at least 6-33% of each day.
One of the restrictions to this improved work method are the designers & contract furniture firms who keep lowering dividers between workstations lower and lower under the guise of enhancing team work (statistical review finds many job demands and requirements are NOT conducive to lowered panel levels with concomitant losses of concentrating abilities and work privacy).
The

evidence based reasons

to stand more frequently through the workday are clear; this article and the research conducted by an old classmate of mine at the University of Toronto, now in the USA is clear; sit all day and expect your health and lifespan to be lowered.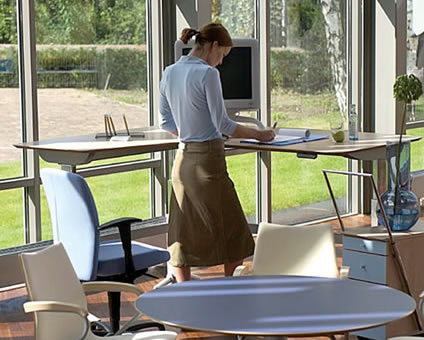 JE Sleeth September 27 2011