<!–[if !mso]> st1:*{behavior:url(#ieooui) } <![endif]–>
By JE Sleeth & Olga Dosis OPC Inc

May 2011 for FAMOS Newsletter
Compliance with Accessibility for Ontarians with Disabilities Act (AODA) regulations is just becoming a reality for Facility & Property Managers, Designers & Architect & Occupational Safety and Environment Managers.

This same reality will need to sink in for Sr. Managers & Directors in Ontario.

To do otherwise at this point in time is not wise as the timeline for the first phase of the AODA regulations; "Customer Service" looms large; January 2012 to be exact with other timelines for employment, communication and built environments not too far behind.
To help get Facility and Real Estate professionals off on the right foot it is best to start with clear definitions to ensure we all mean the same thing when talking about accessibility and accessible work environments be it offices or manufacturing or retail.
Let's start with the term; "Universal design". This is an inclusive philosophy that states that all spaces should be inherently accessible for all users. Rather than focusing on users with specific disabilities, Universal Design creates solutions that will work for everyone, regardless of age, mobility, visual, auditory or mental ability.
A key consideration when "selling" the idea of universal design to Senior Managers, Property Owners & Designers/Architects is to convey the fact that the range of human capability throughout the human life span changes for us all.

This is the driving force behind universal design philosophy. As many universal design experts say, "universal design is cradle to grave design". Good Universal Design addresses the needs of every stage of human life and every ability or change and loss of ability all of experience thru our lifespan.
The ADA in the USA and the pending Build Code Standards changes for the AODA in Ontario focuses and will focus on modifying the built environment to ensure it is accessible for people with disabilities.

Universal Design is different in that the entire range of human capability is at the heart of the design process.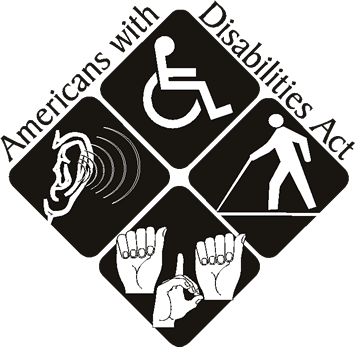 The traditional ergonomic design process assumes designers, engineers, architects along with ergonomic design experts design for the capabilities of 75% of the workforce. Universal Design takes the ergonomic design process and requires thinking & application to all users in the work environment, retail environment, building tenant environments.

Universal design can be applied to everything from your Blackberry or IPod to computer software to electronics. In the current case Universal Design in Ontario this is applicable to buildings and public spaces. Because these spaces get a large amount of use by a vastly diverse population, a design that is accessible and usable for everyone is crucial. In a sense it is "if you build it accessibly they will come; why? Because they now can".
Beyond the Requirements
Universal design requires thinking broadly about usability rather than focusing exclusively on the requirements of ADA (US) & AODA (Ontario for now). Why should your company go beyond the basic AODA requirements? One reason is to eliminate the stigmatizing effect inadvertently produced by, for example, a separate wheelchair-accessible entrance into your retail environment or office tower.
While this entranceway may comply with ADA & AODA guidelines, if it is located at the far end of the building or store or if it is difficult to find, anyone including able bodied individuals who have to use the entrance may feel as if they are being treated differently. Whereas the Universal design alternative will include wide, automatic sliding doors that accommodate all users and allow groups — including people using wheelchairs, with strollers, or walkers — to enter together.
Another alternative may be a building entrance that incorporates a gently sloping ramp into a set of stairs, with flat surfaces and benches at different intervals for people who need to rest. The question being asked in determining whether to ensure basic compliance versus using Universal Design principles is;

How welcoming do you want your facility to be; do you want to open up your building, retail space, public spaces to as many customers and clients as you can?
Experts in the field of universal design emphasize that facility executives' first concern must be compliance with AODA Build Code & for now, Customer Service Regulations. 2011 is a time when Facility Managers, Architects, Designers and Building owners can think about what users' needs will be in different situations where a facility & design element is better able to serve a wider range of people. This type of philosophy is critical to consider on the part of all of these parties because at the end of the day design that is easier for someone with a disability automoatically becomes easier for everybody to access and use.
As an illustration, curb ramps when combined with high contrast yellow coloured pads are a good example of universal design. Why?

Because they are effective not only for wheelchairs,
but also for mothers with strollers, people on skateboards and rollerblades as well as an older user with decreasing levels of visual acuity.
Or consider some of the design features in the IPhone designed by Apple. The design itself along with hundreds of Apps has allowed the IPhone to be an accessible tool for users with changes in vision or no vision as well uses with hearing impairments and loss of fine motor control in the hand/fingers. (to check out these accessibility features go to
www.apple.com/iphone
It All Adds Up; The ROI of Universal Design
Universal Design also makes business sense. According to the Statistics Canada, there are 5.4 million Canadians with disabilities, with $17.5 billion in discretionary spending ability. According to Joan Stein, president, Accessibility Development Associates in the US, that amounts to "twice the spending power of teens, and 17 times the spending power of 8-12 year olds"
As Joan Stein is quoted in a recent FM article states. "The biggest mistake Facility Executives make is not marketing to people with disabilities," she says. "Build it, market it & they will access your property"
The baby boom population, a group now more likely to have or develop mobility, visual or auditory disabilities, is a demographic that can also be well served by Universal Design. According to the Canadian Association of Retired Persons (CARP), 4,000,000 people turn 50 each year, and in 2003 these individuals had $40 billion in disposable income. With people living longer and better, the number of individuals over the age of 65 who want to remain active and independent is growing, and rapidly.

In a study called "The New Retirement Survey," conducted by Harris Interactive for Merrill Lynch, 76 percent of baby boomers reported that they want to continue to work and earn money into retirement, and that, after the conventional retirement age of 65, they plan to launch into a totally new job or career. The study also reported that a new model for retirement is emerging, one that involves cycles of work and leisure. That translates into a larger percentage of the population that may have mobility, visual or auditory disabilities, but still intends to remain active.

With changes to mandatory retirement age laws in Canada, it is more and more common to have a wide age range in office populations. Universal design is all about user-centred design and those users are getting more and more diverse in Canada. (and don't forget the diversity also includes people from all over the world with varying anthropometric sizes and dimensions, reading skills and language abilities).
Universal Design is fast becoming the trend as to what consumers & building end users will expect.

It is the smart building owners, facility managers and designers who will become leaders in Universal Design as a result. The population both in the workplace & as consumers will come to expect things to be accessible.

To illustrate have a look at the Target Corporation website and case studies. Target as a company has embraced the concept of Universal Design. The company has a section on its Corporate Web site promoting its "design for all" concept. Next time you find yourself in a Target store check out the wider aisles which accommodate not only patrons in wheel chairs, but also shopping carts, strollers, young children with toys running up and down the aisles, and people with a canes or seeing eye dog. The design also allows other shoppers to share this space. Each store is now laid out in a practical, intuitive way, making related products and departments easy to find. Way Finding is now a large part of the Universal Design in the stores.
What Target's executives and designers have done is the opposite of what Ontario businesses are doing currently.

Ontario Facility's Managers,

Human resource managers and designers are at a phase where they are worried about the high costs associated with the AODA.

Instead this question should become how is Universal Design an advantage for us in the marketplace. How can we enhance design so it is not part of a strict code or part of regulatory language?

How can we instead ensure our designs meet what the market wants and needs?"
A Different Way of Thinking
Although you may not realize it yet, Facility & Building executives should become the prime resource for good universal design practices. By virtue of your understanding of the end user's and tenants needs coupled with the fact you will be working with these end users on a long term basis, you often know before anyone else what will work and what won't work in the built environment.

Incorporation of Universal Design principles does not always mean major renovation projects, but rather, a more inclusive way of thinking about users & tenants when making minor updates & repairs. As an illustration think about when paper towel dispensers are to be replaced in your building. Before a decision is made to make changes consideration can be given to "do these meet the principles of Universal Design."?

At OPC we are trying to get Facility and Building Executives to think of the AODA and the subsequent Universal Design (design of Customer Service interaction Phase 1 in Ontario; Communication, Transportation and Employment Phase 2 Ontario and Phase 3 the Built Environment) as a competitive marketing advantage.
Look at how the green building movement & the LEED rating system has become a way for Facility and Building executives to show they are environmentally conscious & parlay this into a business advantage.

Universal design can & will provide this same opportunity.
Facility & Building executives should learn about the AODA and Universal Design because accessibility is fast becoming an expectation of end users and consumers in Ontario, it is not just the law.


What Is Universal Design?
The following principles of universal design were drafted in 1997 by a group of designers and architects at the

Centre for Universal Design

at North Carolina State University & are also quoted at the Design Exchange in the Ernst Young Tower in Toronto.
Equitable Use —

The design is usable & marketable to people with diverse abilities.

Flexibility in Use —

The design accommodates a wide range of individual preferences and abilities.

Simple and Intuitive —

Use of the design is easy to understand, regardless of the user's experience, knowledge, language skills, or current concentration level.

Perceptible Information —

The design communicates necessary information to the user effectively, regardless of ambient conditions or the user's sensory abilities.

Tolerance for Error —

The design minimizes hazards and the adverse consequences of accidental or unintended actions.

Low Physical Effort —

The design can be used efficiently and comfortably and with a minimum of fatigue.

Size and Space for Approach and Use —

Appropriate size and space is provided for approach, reach, manipulation and use regardless of user's body size, posture or mobility.
To learn more about this topic or the next steps required of your business before January 2012 please read our blog opctoday.blogspot.com or send your inquiries to info@optimalperformance.ca and J.Sleeth@optimalperformance.ca